Indoors
The Energy soft play is open 9am-6pm Mon-Sat and 9am-5pm Sunday, £4 per child. But, there are 3 Energy Zappers preschooler sessions a week, which are just £2.50!
If you are a registered childminder, you may be entitled to a free childminder discount card – just bring your valid childminder certification and complete a quick application to get entry for up to 4 children at £2 each, Monday to Friday.
Energy Zappers – termtime only
Cost: £2.50 per child
Monday 9.30am – 11.30am;
Thursday 12.30pm-2.30pm;
Friday 9.30-11.30am
Jump, climb, slide, swing and explore the Energy indoor soft play centre then have a go at a range of 'learning through play' crafts, activities, songs and games (different activties each week).
All children must be accompanied by a responsible adult; juice and biscuits provided for the children. No need to book, simply turn up and join in.
Suitable for pre-schoolers aged 0 – 4 years
---
Zumbini
28th February – 3rd April 2020
Fridays 9.30am – 10.15am
Created by Zumba® and BabyFirst for preschoolers up to 4 years, the Zumbini® program combines music, dance and educational tools for 45 minutes of can't-stop, won't-stop bonding, learning, and fun! Silliness and wacky dance moves are not required – but highly, highly encouraged. All children must be accompanied by a responsible, participating adult.
£5 per child, adults go free!
Suitable for pre-schoolers up to 4 years
---
---
XHeightables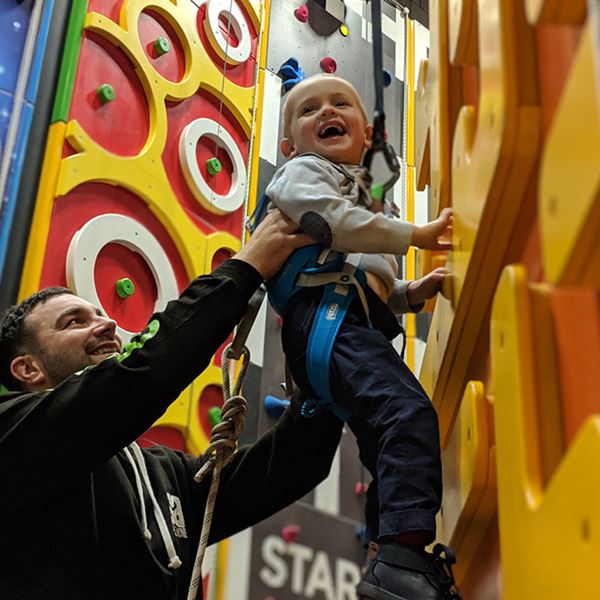 Tuesdays 9.30am – 11.30am (term time only)
£2.50 per child
Suitable for pre-schoolers, 2 – 5 years
6 children per session
Half hour sessions run at:
All children must be accompanied by a responsible adult at all times. A fantastic way to introduce your little ones to climbing in a safe, friendly and fun environment!
Please note sessions have proven to be popular so please pre-book your place.
Each session is led by our specially qualified climbing team, however help from mums, dads and guardians will be needed along the way!
---
Swimming
large pool (temp 30 degrees), large separate children's pool (same water as main pool), usually kept at a very shallow depth, great for toddlers who like to run around splashing without fear of it getting deeper.
1 large mixed change cubicle area, including a lot of very large cubicles suitable for families.
Pre-school swim
Wednesdays, 9.30am-11am
£2.50 per child, no need to book
Use of the baby pool with small floats and nursery rhymes to accompany
Shark Babies
Tuesdays, 12pm (termtime only)
4 weeks – 18months
£5.75 per child, PAYG, no need to book
Instructor-led session, encouraging development of natural swimming reflex which sustains and rebuilds these reflexes, which leads to voluntary arms and leg movements we know as swimming. Shark Babies helps to socialise babies in an environment of surrounding water, splashing and noise associated with swimming and pools; we use colours, number and music to make these sessions fun for babies and parents/guardians.
Little Sharks
Thursdays and Fridays, 11.15am & 11.45am, must be pre-booked
£24p/m via direct debit
Instructor-led session using songs and games, Little Sharks (previously known as Swimny Crickets) helps to build water confidence and independence, whilst also developing movement and basic water skills.
Outdoors
New outdoor facilities for little ones include playground, bike track and mini-golf!
Energise is the brand new outdoor play park, opened Autumn 2019. It's a great way for little ones to burn off steam whilst getting some much needed fresh air!
Designed for under-eights, it's completely free to use and encourages imaginative and co-operative play. The equipment in Energise is extra special as it is made out of sustainable, organic resources meaning we are doing our bit for our environment, as well as our local community!
Please note children must be supervised by a responsible adult at all times.
Salt Ayre Drive is a dedicated area with balance bikes, trikes and diddy cars designed for under 8s to enjoy. Salt Ayre Drive is completely free and has fantastically fun features such as a figure of 8 bike track, petrol pumps, and much more.
Tee Time mini golf has landed at Open Ayre, and it promises to be a fun-filled activity for all of the family to enjoy! Our nine-hole outdoor mini golf course will putt you through your paces as you take on our tricky challenges.
£3 per person – please collect your golf club and ball from Refuel outdoor cafe or main reception.
Special Events
---